An architectural review of the 2016 Marvel production "Doctor Strange".
Every now and then in mainstream media and film industry a movie comes up to touch the architects heart. Whenever that happens, it rarely stays unnoticed, students learn it in universities and architecture journals are full of articles about it for weeks to come. What happened after the latest Marvel production "Doctor Strange" is no exception – it is even an amplification. For this time architecture wasn't merely perfectly suited or reflecting a characters feelings and personality – architecture was part of the concept, part of the transformation, part of the plot. Still it was not an architectural film and that might even be the beauty of it. Here I will focus on a few aspects:
– details : The driving concept of the movie is that controlling the energy one can rearrange atoms and parts to establish new connections and even form new entities. In sync with that idea, the characters shape their immediate surrounding, be it the interior of a Gothic church, barque facade in London or glazed facade in New York, by rearranging their details and therefore creating new spacial experiences. Detailing is used to convey a certain meaning, to signify function, social status or a belonging to a larger cause. By manipulating the details, a building receives a different meaning therefore is also different.
– transformation : What an eye candy for an architect to see the Utopian dream of moving architecture come to life. Noticeable is however the operational character of the transformation – always following an algorithm in one transformation axis. For real transformation only happens in time and time is a linear continuum for us. (exciting discussion opens another late 2016 movie "Arrival")

© Marvel
– chaos : When all hell breaks loose, chaos comes. There is not one unified horizon, nor gravity, stacks of random buildings everywhere. A hellish image, but still unfortunately somewhat familiar. A dark warning about the present and future of big cities such as London or Hong Kong.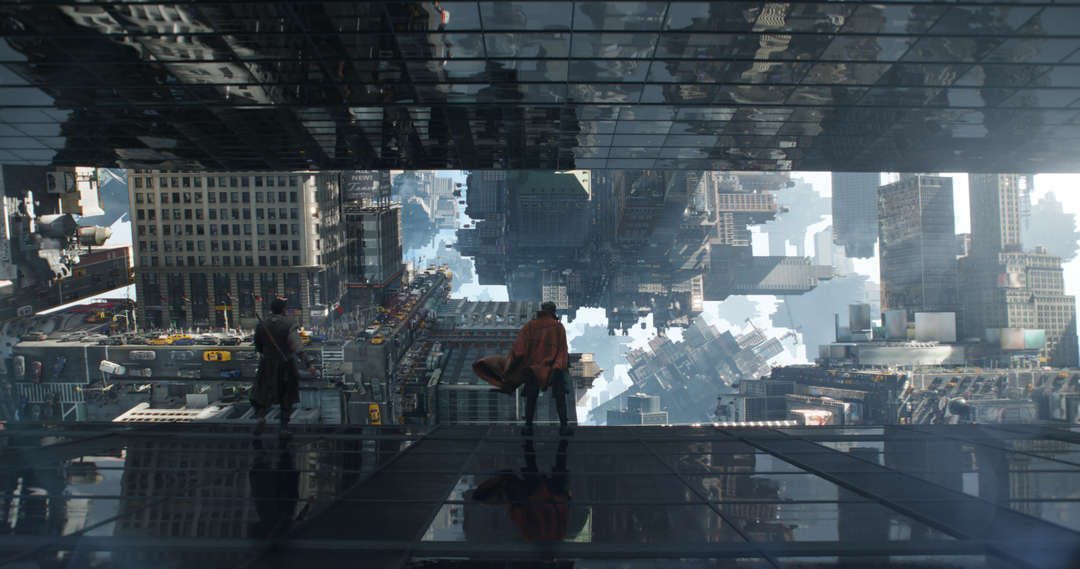 © Marvel
– connectivity : Three different portals in three distinct points of the world, yet seamlessly connected – an excellent referral to a future architecture of wireless communication and global design chain. A relation to the exhibition "Interspace" (Estonian national pavilion, La Biennale di Venezia 2014) comes to mind.
To stay objective here a small list (continuously growing) of pure architectural delight expressed in movies. Renowned for their architectural touch, without being on the topic of architecture – all bullet-proved by me:
"The Grand Budapest Hotel" 2014 – for its candid pastiche and interiors
"Blade Runner" 1982 – for its powerful futuristic imagery
"Mon Oncle" 1958 – for its caricature of modernist architecture
"The Fountainhead" 1943 – simply classic
"Dogville" 2003 – for its lack of architecture
"Muttertag" 1993 – for its critique on social housing in Vienna, Austria
"Arrival" 2016 – for its clean spaciality
---